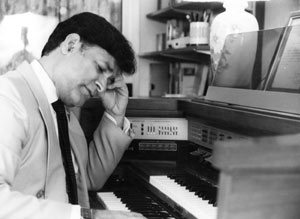 Sohail Rana
Sohail Rana Sahab pays tributes to O.P. Nayyar Sahab below:
After a chase of almost twenty years, I was able to get contact of O.P. Nayyar Sahab. The giant of a composer and king of rhythms as he was known all over. I had the honor of speaking with him on phone almost a month back and then there were three more phone calls that I made, the calls always lasted more then forty-five minutes.

While I was talking to him about the memorable songs that he had composed from the film 'Aasmaan,' onwards, he would interrupt me and like a gentleman, like a mentor, and like a guru he would start praising me instead.

He even hummed and sang my song, 'Mujhay tum nazar say gira to rahay ho.' He said that when he heard this song he had a natural desire to meet me. I felt highly elated. O.P. Nayyar Sahab gave Aasha jee, Geeta Dutt jee, Shamshad Begum and Rafi Sahab a style no other composer gave to them. His music was unique and outstanding. He was gem of a person, very loving, very caring and very outspoken.

He actually commanded me to stay as his personal guest when I visit Bombay, which I was planning very soon. Raju is a very lovely girl who had been serving him like a daughter and took care of him twenty-four hours. This morning his soul has suddenly parted. The whole film industry, Shammi Kapoor jee, Lata jee, Aasha jee, all composers and even the Prime Minister of India has sent condolences over his sad demise.

Tonight, I rang up Bombay and spoke with Raju. She was in tears, sobbing and crying and explaining,"Baba, what shall I do without you." She then narrated to me how he collapsed and died on the spot. He was eighty-one years of age all right but he was not suffering from any fatal disease.

O.P.Nayyar jee, as a music composer, according to him, died thirty-five years back. He was as a person very much living and enjoying good health. He died peacefully.

Ah! Nayyar jee, Aap nay hamara intizaar naheen kiya. Siraj Khan, mein aur Afshan jee to Aap say milnay Aa rahay thay. Your sudden death is a blow to the whole film industry, the entire musical world, Raju, Siraj, Afshan jee and myself. You have gone away but your music will keep you alive and no one can ever forget you.

Tumhain hum kabhi bhi bhula na sakein gey.

May God bless your soul,dear O.P.Nayyar jee.

Your well- wisher/your friend/your admirer

Sohail Rana

Toronto,Canada.

Shaibal Roy to Sohail Rana:"Breaking news: One of the romantic and wonderful music directors from the yesteryear's Hindi film industry, O P Nayyar passed away today in a Thane hospital due to heart attack. The Hindi film industry has lost another of its jewel from its crown. May his soul rest in peace. "

Siraj Khan to Sohail Rana: Allah ko kuch aur manzoor tha. OP Nayyar Sb passed away a few hours ago. I was speaking to Raju and she fainted while talking to me ( her friend picked up the phone and told me of what happened.) They are carrying the rituals after death in a few hours. We spoke last weekend and I told him that I would call next Sunday ( today).