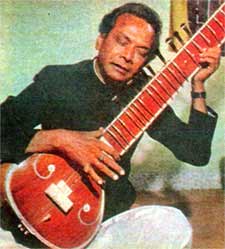 Naushad Ali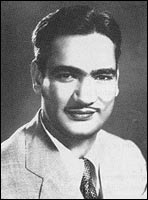 O.P. Nayyar
Another blow to our music world

(Tribute by Sohail Rana)

From May 5, 2006, to this day, the music world of

India

and

Pakistan

has been jolted by severe storms taking away precious lives. First we lost Mauseeqar-e-Azam, Naushad Sahab, in May 2006. Immediately followed by the passing away of Shehnai Maestro, Janab Bismillah Khan Sahab in

India

.

We were just trying to recover with these two shocks when suddenly on January 28, 2007, the news of rhythm King, O.P. Nayyar Sahab's sudden demise spread like fire turning the entire internet red and crimson.What a great loss!

And then in March 2007, we read about the untimely death of music director, M Ashraf, who had scored popular music in countless films in

Pakistan

.

While we were lamenting and remembering the creative music wizards of yesteryears, we heard music composer Nisar Bazmi Sahab, leaving behind lilting and memorable compositions also bid farewell and joined his contemporaries and the long fleet of yesteryears' composers. singers and poets. May Allah bless their souls. Though they are no more here in this world, but their compositions and contributions will immortalize them.

And now Ustaad Asad Amanat Ali Khan also passed away in London leaving behind a widow, two daughters and a son, brothers, sisters, uncles, etc. I remember the talented and handsome Asad Amanat who accompanied me alongwith a team of celebrities, I had taken to Afghanistan representing Pakistan in Jashn-e-Kabul in 1977. The delegation included Ustaad Fateh Ali Khan, Ustaad Shaukat Ali Khan(Tabla), Ustaad Hamid Hussain(Sarangi) and Ustaad Hamid Ali Khan, Habib Wali Mohammed, Fareeda Khanum and professional musicians.

Then in 1978, Asad Amanat sang one of my compositions, "Allah Janay," in Raag Chandra Kauns, for Lahore TV centre. What a fine rendering it was by Asad. He was a very talented and hard working person. Like his father, Ustaad Amanat Ali Khan Sahab, Asad also died young. What a tragedy and what a blow. May Allah bless his soul too, and give patience and courage to his entire family, to all his admirers, friends and relatives.

Offering condolences and praying for the departed souls, Sohail Rana from

Toronto, Canada

.